I'm sure there has been a time in all of our lives where we didn't understand where someone was coming from in their thinking. For example: I buy the new J Cole album 2014 Forrest Hills Drive and claim that it's one of the best albums of the year. All my friends agree, a lot of people my age agree, but then if you were to ask your parents what they think of it, chances are they probably won't like it and/or understand it (unless you have cool parents). How can they judge something that they aren't familiar with? Are they judging it based off of the genre or actually critiquing the music and lyrics? That's a mild similarity to what's going on with the Oscars.
The 88th Academy Awards will be the second one in two years where African Americans are snubbed in most of, if not all of the major categories. Last year was a "lily white" Oscar show, and this year is looking like it will unfortunately mimic the trend. Since the release of the nominations on January 16th, there has been much discussion on the lack of African Americans in any of the major categories. To be more specific, 20 slots for the major acting categories went to all white actors/actresses. Most recently, Jada Pinkett Smith and Spike Lee have come out and said that they will not be in attendance as a protest against the academy for its lack in diversity.
Cheryl Boone Isaacs, President of the Academy of Motion Pictures & Sciences, recently released a press statement stating that she is working to diversify the members of the academy, which in a 2012 study by the Los Angeles Times found is overwhelmingly compiled of older white males. This will be the second time that the Oscars will have back to back all white nominees since it first occurred in 1997-1998. Last year's Oscars saw a 16% attendance drop, most likely because of its snubbing of African Americans.
That being said, I have a few things to say about this matter. Not to discredit any of the movies or people that were nominated, but how can this happen? 2015 was a good year for movies, most of them involving diverse cast members, yet somehow the only ones that get the Oscar nod are white? For example: Creed, where the main character is Michael B. Jordan, was one of the most successful movies of the year. The only nomination that it's up for is Sylvester Stallone for best supporting actor. WHAT? Straight Outta Compton, which has grossed over $200 million and was #1 its first week out in August, is only getting recognized for writing (original screenplay). I think the Academy is Straight Outta Excuses.
Another movie which didn't make the cut is Concussion starring Will Smith. Now, I know that a lot of people have speculated how insane it is that Leonardo DiCaprio doesn't have an Oscar yet, but NEITHER DOES WILL SMITH!!! How is that possible? I've heard theories that the NFL made sure this movie didn't get nominated due to how much it exposes the league and how they handle head injuries, which could possibly be true, but the fact he didn't get any recognition for his role as Dr. Bennet Omalu in one of the most controversial movies of the year is kind of stupid. Idris Elba, Spike Lee, Benicio Del Torro, and Samuel L. Jackson were also withheld from an Oscar nomination this year for their respective roles. I guess the question is: what needs to be done to make the Oscars less bias?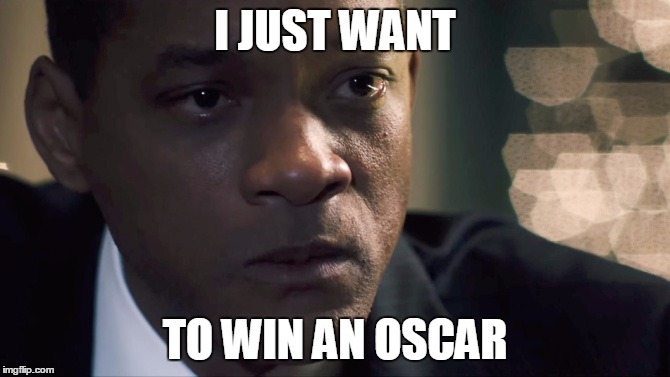 Overall, I personally think that this is a very shitty situation. Not just for the Oscars or African American actors/actresses, but for America in general. Over the past year, we have seen too many issues that pertain to race and the inequality of respect shown among people of all races. Hopefully the Academy allows more diversity in its members. That or we can always call Dr. Bennet Omalu to give them all head examinations. At the end of the day, although this is a rather big issue in the media, let us not forget that there are far worse things going on within our own states, cities, communities, families that we should focus our energy on.